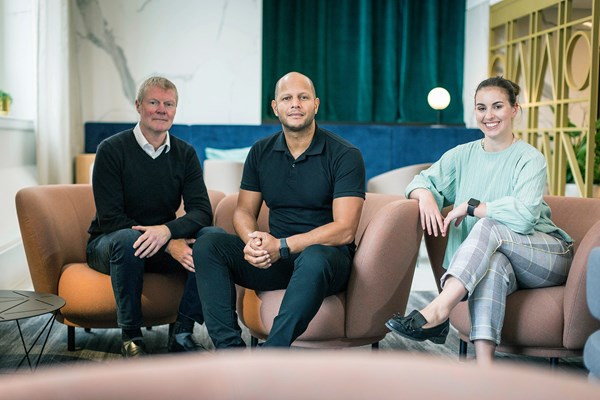 Digital football resource football4football is set to revolutionise the sport at grassroots levels following a £150,000 matched funding investment from GC Angels.
The interactive hub is aimed at individuals across all levels of the game, advising on what to eat, how to improve, and what to do in case of injury. With content from World Cup captains to non-league semi-professionals and brand ambassadors across the world, Football4Football aims to give a complete overview for players looking to gain an advantage at any level. As well as advice for aspirational players, the site features resources aimed at coaches and parents, ensuring best practice across every area of young players' lives.
The £150,000 investment from GC Angels and launching of the website represents the culmination of years of content gathering, creating a database of almost eight terabytes' information. The site boasts the largest collection of players, coaches, and experts and features content from huge footballing names such as Ryan Giggs, Paul Scholes and Vincent Kompany, covering more areas of the game than any other platform.
The investment funded the launch of the website and will drive the conversion of more content opportunities, allowing the website to continue to expand in scope and grow its userbase.
The launch of the website comes at a time when the debate surrounding resources in grassroots football is ongoing. Following the collapse of the Football Association's Wembley sale to Shahid Khan, the FA has been grappling with relative lack of investment in the community game at a time of unprecedented wealth at the top of the sport. The introduction of the Football4Football platform gives grassroots players and coaches access to resources that would otherwise have been not accessible or available.
The site has won praise from a variety of sources. Mark Aitken, Director of Sport and Health at Abraham Moss Community School said that students were fully engaged with the application, whilst orthopaedic surgeon Prof. Sanjiv Jari stated that helping players become more body aware will lead to a reduction in the numbers of players' careers cut short unnecessarily.
Julian Dowe, creator and owner of football4football, said: "This is an exciting time for football development in the UK. Using the internet to its fullest potential can help educate young players, and their support base to enhance physical activity as well as emotional well-being in football. Like the top players, coaches & experts who feature, we want elite resource to be fully inclusive and believe that football4football can drive this process with its engaging functionality, fantastic content and accessible instruction."
"GC Angels have been great to work with; at the stage we were at they were crucial. We're looking to grow both the content and userbase, helping as many players as possible which the investment is enabling us to do. Years of hard work collecting masses of content and building an appropriate site to host it can now come to fruition with the GC Angels funding the dissemination process."
Nathan Heathcliff-Core, Associate Director at GC Angels said: "Football4Football is one of the most exciting and innovative companies to work with in the sector. The work they've done with clubs such as Real Madrid, Ajax, and Paris Saint-Germain, across the Premier League and Europe, really makes them stand out, and we're glad to be able to play a part in their journey. Helping young footballers, coaches, and parents can drive the grassroots in this country and across the world to the next level."