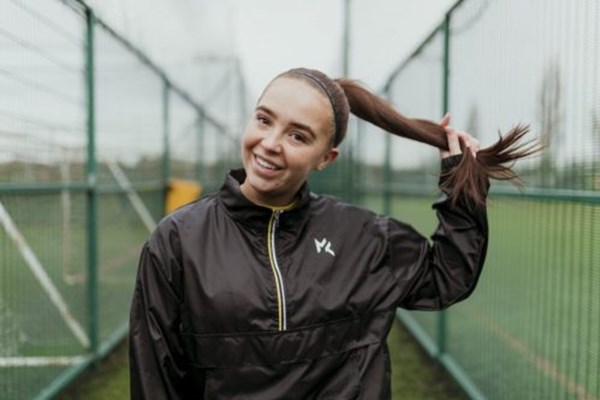 A women's football brand founded in Manchester is targeting expansion in North America after support from funding organisation GC Angels.
Miss Kick was set up by 25-year-old former footballer, Grace Vella who believed that kit, culture, confidence and credibility were lacking in female sport.
Her venture creates clothing and sportswear for women and girls in football, with 2.5% of every order donated to its charity, Miss Kick Foundation, which provides free opportunities for girls and young women to get into sport.
GC Angels supported Grace in raising her first round of funding, helping her to develop a pitch deck, inviting her to Fund Her North's pitching events to practice, and introducing her to key investor networks.
Investment raised through GC Angels' support fuelled initial product development, increased headcount from one to five and helped establish the Miss Kick Foundation charity.
Now, the business is poised for growth. So far this year the brand has signed Arsenal and Ireland captain Katie McCabe as a sponsored athlete and reached more than 70,000 followers on social platforms, fuelled by the popularity of England's success in the Women's Euros this summer, when Miss Kick set up its own Women's Premier Soccer League team in California, Miss Kick FC.
Grace Vella said: "My passion since the very beginning has been to build a brand and community that champions women in sport. The GC Angels team were on board from the outset and really believed in my vision.
"The support the team offered, from guidance on my business model to constructive feedback on the pitch deck, has accelerated Miss Kick to where it is today.
"There is real market growth at the moment, largely thanks to the success of the Women's Euros this summer. With the continued support of GC Angels, we are in a strong position to take our brand and community to the next level."
Sam Patchitt, investment director at GC Angels, said: "Miss Kick is a shining example of a business keen to make a real difference to the future of women's sport.
"Grace has built a unique brand and international community that drives social change and addresses the demand from consumers for inclusive sportswear and sporting opportunities. We're so pleased to support Grace on her journey, from coming into the investment world very new to building a business that is in a strong position to reap the benefits of high growth."