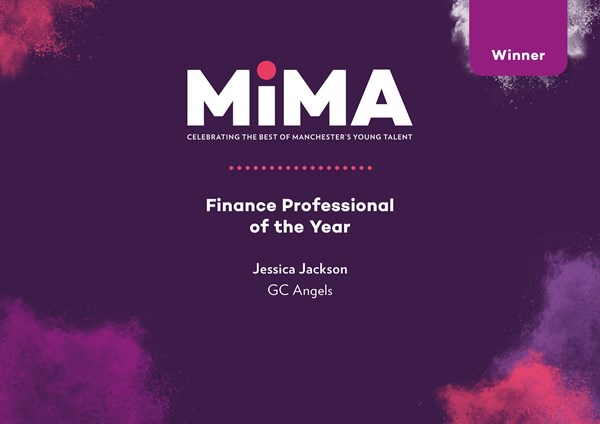 MiMA 2021
The Made in Manchester Awards, brought to us by future pro-Manchester celebrates the best of Manchester's young business talent, up to the age of 35. The 2021 awards are a celebration of Manchester's young business community and how they have continued to strive for excellence and push boundaries during this incomparable time.
Finance Professional of the Year award
This award is for those who have an outstanding influence and have made an excellent contribution to the financial services industry.
The winner is… Jess Jackson of GC Angels!
In October, Jess took over as Head of GC Angels, where she will play a key role in designing and implementing the strategic vision for GC Angels increasing investment in GM innovation businesses and building key capacity across the early-stage market.
GC Angels directly address the early-stage equity gap where innovative start-ups struggle to access growth capital to scale. With its digitally enabled approach, the service has adapted during the lockdown and is responding to increased demand from investors and SMEs as the market seeks to continue growing.
GC Angels is the established go-to solution for innovative start-ups in GM that seek funding, meaning Jess has already begun expanding the investment team at GC Angels and raising more funds to build investment capacity against growing demand.
In November last year, GC Angels hosted the first 'Smashing Barriers' event, setting out to showcase women who have successfully raised money for their business and get them to share their tips and insight on how to do it. Jess has led 6 more events since then, gathering around 40 attendees at each event, welcoming business owners from all backgrounds to pitch for funding at these events, with entrepreneurs securing funding on the back of this.
Under Jess's leadership, GC Angels were recently named as the most active early-stage investor into Greater Manchester's tech scene in 2020 so far, as well as the most active seed investor in the North by Beauhurst. It was also highlighted as one of the UK's most active angel networks, showing a commitment to tackling the innovation growth deficit.
On top of her work within GC Angels, Jess has consistently been a voice for businesses in Greater Manchester. She has been a go-to speaker and commentator on issues relating to the investment climate and challenges faced by tech founders and investors amidst the pandemic, alongside speaking on issues of diversity in the industry.
Jess Jackson said "I'm really honoured to be the winner of this award. It's great to be recognised for the work, that not just myself, but also the whole of the GC Angels team has been doing to shift the diversity issues that have been seen in the investment landscape. I'm pleased that it's been recognised how active we've been in the North West. Here's to continued success in 2021!"
Paul Breen, Director of Business Finance at GC Business Finance said: "Jess is very deserving of this award,  her passion for encouraging innovation is critical in unlocking the growth potential of businesses in Greater Manchester and enabling better routes to finance and improved public and private investment in underrepresented markets."