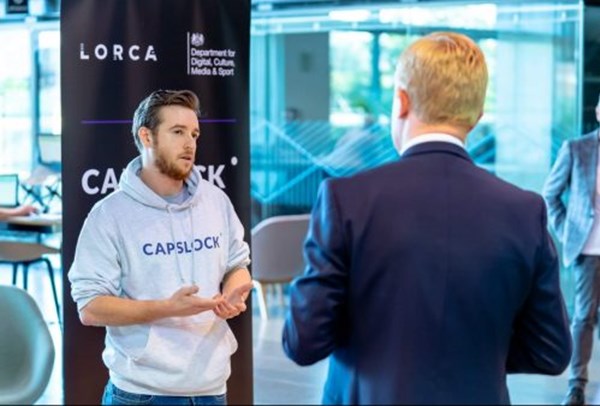 CAPSLOCK Education, a Manchester-based cybersecurity education institute, has secured £540,000 in pre-seed funding round from GC Angels, the Ufi VocTech Trust, Tynton Group, private angel investors and the Government to reskill adults across the UK.
Founded in 2019 by Jonathan Slater, Lorna Armitage and Dr Andrea Cullen, CAPSLOCK's intensive training boot camp reskills adults into cybersecurity professionals within six months.
Designed in collaboration with industry leaders including Lloyds Banking Group, BT and Dell, it provides students with opportunities to solve cybersecurity problems practically, equipping them with the skills necessary to pursue high paying, competitive careers in cybersecurity.
The course comes at no cost to its students. Costs are fronted through an Income Share Agreement (ISA) which graduates are not required to pay back until earning more than £27,000, with the loan wiped after six years.
Of its first cohort of 85 students, 77 opted for the ISA, with CAPSLOCK deferring £700,000 in tuition fees so learners could join for free. This makes CAPSLOCK the UK's largest provider of ISA's in UK.
Among its first cohort, 32% were women and 35% were from ethnic minority backgrounds, more than double the average representation on a university degree in a similar subject – 50% of the tutoring team are women and 56% of industry mentors are women, too.
After participating in the University of Central Lancashire's Investment Readiness programme, CAPSLOCK was introduced to GC Angels, the North West's most active early-stage investor. GC Angels introduced the business to the Ufi VocTech Trust, an investment unit focused on the delivery of vocational learning, and a number of private angel investors.
The £350,000 equity investment, which comprised £100,000 from GC Angels, £100,000 from Ufi VocTech Trust and £140,000 from Tynton Group, was bolstered by £190,000 in government-backed funding. This consisted of £50,000 through the Bounce Back Loan Scheme and a £140,000 grant from Innovate UK.
The round follows the Prime Minister's announcement that the North West will become home to a new National Cyber Force Centre, aiming to create a 'cyber corridor' across the North of England.
CAPSLOCK has already created a number of highly paid jobs in the region, with its Manchester-based team of six is set to grow over the next six weeks.
Chief executive, Jonathan Slater, said: "At a time when the value of tech degrees is in decline, there is an urgent need for disruption in cybersecurity education. At CAPSLOCK, we're determined to drive this disruption.
"By unlocking the potential of adults in the UK, and eliminating the financial barriers to reskilling, we're changing the face of cybersecurity and making it more accessible to people of all backgrounds."
Damian Mohammed, investment director at GC Angels, said: "As the North West is set to become the cybersecurity capital of the UK, CAPSLOCK is exactly the type of company that we look to invest in, by addressing the skills shortages in the sector.
"In what has been a difficult year for many, it's great to see them not only growing their own diverse team, but also supporting people reskill to get well paid, sustainable careers in an exciting sector."
Alex Bishop, impact investment manager for Ufi VocTech Trust, said: "At Ufi, we are particularly excited by CAPSLOCK because of their unique learner proposition, removing the financial barriers to vocational training and enabling learners to access skills needed for work in high demand sectors in the UK, such as cybersecurity."