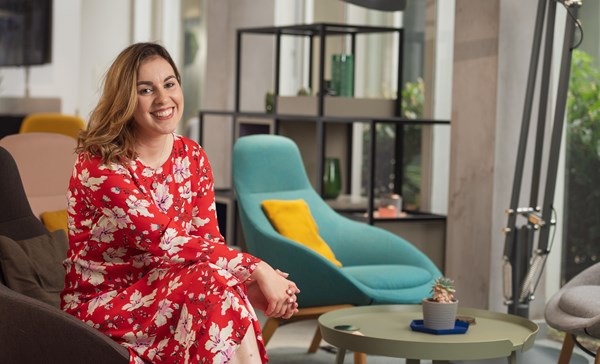 Our Head of Angel Investment, Jessica Jackson has been nominated for the Women in Finance Awards 2021 and has been successfully shortlisted in the prestigious "Advocate of the Year" category. A huge congratulations goes to Jessica!
The Women in Finance Awards initiative, presented by DiversityQ, provides a global platform to showcase success, resilience, innovation, and creativity within financial services, as well as shine a light on those promoting the importance of a more inclusive industry.
Jess is responsible for designing and implementing the strategic vision for GC Angels and in scaling the investment capacity, funding structures and market impact of the service, as well as overseeing investments ranging in size from £25,000 up to £2m.
Jess is a huge advocate for female entrepreneurs and is passionate about inspiring women to break down the barriers that they face in their industries in order to raise investment. Since launching in 2018, GC Angels has completed 33 early-stage investments with 39% of investment rounds going to female-founded businesses. This is something Jess is incredibly proud of through her hard work raising female entrepreneurs' profiles.
Between August 2020 and July 2021, Jess has completed 8 investments, of which 4 companies had a woman on the founding team. This contrasts with the national picture, in which just 4% of all VC deals go to all-female founding teams, and just 15% to mixed-gender founding teams, according to the most recent data from the British Business Bank.
Jess is a leading voice on the issues surrounding diversity and investment. She is a go-to speaker and commentator on issues relating to the investment climate and challenges faced by female tech founders and investors amidst the pandemic alongside speaking on issues of diversity in the industry.
She is genuinely passionate about addressing inequality in the early-stage investment space, and her determination to drive the conversation has been felt across the early-stage equity landscape.
In January 2021, Jess made it to the North West Business Insider's Professional Power List and in February she won the Made in Manchester Award for 'Finance Professional of the Year'. More recently, she was nominated as TheBusinessDesk.com's 'Changemaker of the Year' in recognition of her advocacy for female founders.
Paul Breen, Director of Business Finance at GC Business Finance said: "Jess has always impressed us with her enthusiasm for increasing the presence of the GC Angels profile and understanding the challenges faced by female, Black, and ethnic minority founders. Her passion for encouraging innovation and creating the conditions for inclusive growth is a huge asset to the firm's position in the region and beyond, as she helps to enable the growth potential of businesses with diverse founders through better routes to finance, improved public and private investment in underrepresented markets, and the creation of dedicated platforms."
The UK awards, now in their fifth year, will celebrate advocates, role models and allies across the UK's financial services industry who are working to spearhead real change. By continuing to identify new industry role models, we can inspire students and graduates, build a united community of change makers, and motivate professionals to continue their work across the finance landscape.  
The results will be announced at the JW Marriott Grosvenor House, London on 24 November.