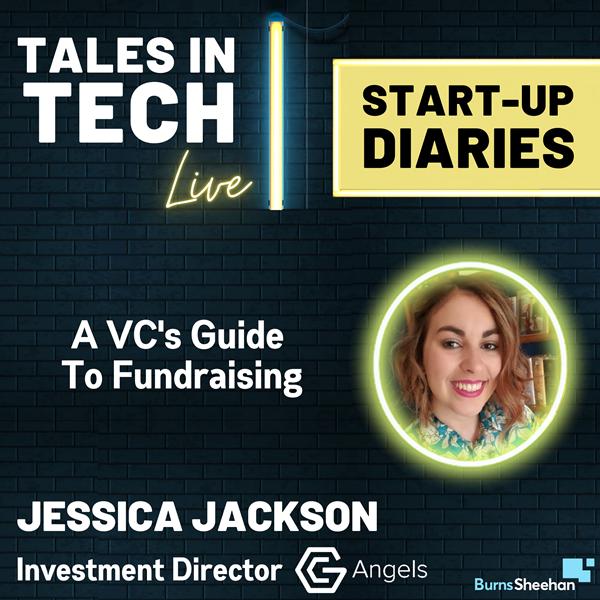 In the latest episode, Tales in Tech spoke to our Investment Director at GC Angels, Jess Jackson. GC Angels are one of the leading early-stage investors in Greater Manchester and have invested in 22 businesses since 2018.
In this podcast, we are jargon-busting, myth debunking & answering some of the most common questions asked when approaching fundraising, this episode will help you answer some of your investment dilemmas! 
Jess shared her insights on the following:
When to consider fundraising options
Her take on VC personality and culture fit
Addressing the imbalance of funding for Female and Minority Founders
Debunking 'cash-runway' - what does it actually mean!
The most common pitfalls in companies looking for investment and post-investment
A shout out of some of the most exciting businesses to look out for in the North at the moment
In this blog, we'll cover some of the topics discussed however to hear the full conversation please go to: https://open.spotify.com/episode/11TSG79n6r7MVx9FJzexAX
Despite covid19 affecting many aspects of our lives in 2020, it's a delight to hear that it hasn't affected the appetite for entrepreneurism in the North West. Over the past 10 years the North has had a huge influence on VCs and continues to do so.
VC culture
When matching a VC and business, finding the right personality and culture fit is important, however, this often can fall into a dangerous area. Human nature shows us that we relate to people who remind us of ourselves. When we look at VCs – they often have a majority of white males, therefore it appears they remain in their comfort zone with 80% of investment going to all-male founders. 10% going to mixed founders and just 1% going to female founders. GC Angels are dedicated to improving these statistics and are taking responsibility for diversifying the market.
Having the right attitude in the management team equals success. Different genders, backgrounds, races, age and experiences make for better business.
Cash runway
"Cash runway" is to the length of time in which a company will remain solvent, assuming that they are unable to raise more money. Jess compares this to a plane landing on the tarmac on the runway – the plane needs to know how much fuel it needs to stay in the sky, as a business does with its finances. They need to know the length of the runway. Many investors in 2020 have had to invest further in their portfolio businesses resulting in investment rounds taking a long period of time than usual.
A common pitfall in fundraising is a lack of understanding of the numbers, it is vital to know your company's worth and the evidence behind this.
Common mistakes post-investment
Having the right accountancy information is key. As there are a transition and maturity shift through the SME's lifetime with a new investor onboard, they will be required to have management information, profit & loss, cashflow for monthly reporting. Communication is key. Investors will need to see an overview of what is happening in the business and 'the length of the runway'. What is the burn rate? Are there ways to improve? Think outside the box. Not thinking long term can spell disaster. What is working today may not work tomorrow, always be thinking of the next steps and what plan B is. Keep a watchful eye on current and new competitors. Always work on the commentary.
Another mistake is to not diversify your board members, knowledge is equal to success. It is vital for keeping up to date with the market and reaching different audiences.
Ones to watch in the North West
Who are the exciting businesses in the North? There are some rising stars in GC Angels' portfolio including Tootoot, Collctiv, Know the Origin, EdTech, Twine and Housemates just to mention a few.
For the full podcast, please click here: https://open.spotify.com/episode/11TSG79n6r7MVx9FJzexAX