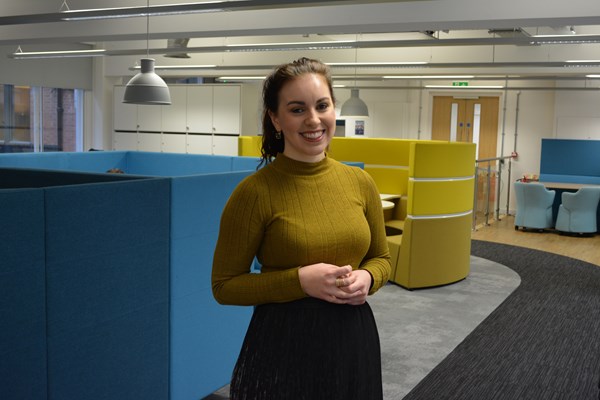 Manchester based responsible finance provider GC Business Finance has recruited &The Hive founder and tech start up expert Jess Jackson as Investment Director within their growing investment and funding team, GC Angels.
Jess joins the GC Angels team, which is part of the wider Growth Company, bringing with her several years expertise providing investment and business support with Evergreen Group, an innovative technology group focusing on health and energy, and family office Ascent Ventures.
Having worked directly with many tech businesses at both start-up and investment phase, she brings with her a unique understanding of the needs and challenges faced by entrepreneurs operating in this sector. Jess will work to drive investment into digital and tech companies within the GC Angels operation which facilitates access to investment through angel syndicates and co-investment, with both their own and partner funds. 
Jess will also be working with the team to grow the network of Angels and partners, to drive delivery of transactions, to provide post-investment support to investees and to ensure that funding is aligned with the delivery and attainment of key social and economic targets across the region.
Jess said: "I'm delighted to be joining GC Business Finance at a time when there is a palpable buzz around what we're doing. There is huge demand for investors in sectors that are critical to the growth of the regional and national economy – from digital and fintech businesses to innovative health and bio start-ups.
"GC Angels already has a solid reputation for delivering major funding into some of the UK's most exciting and innovative companies.  I'm looking forward to utilizing my expertise and contacts within the tech sector; combined with the team's finance and investment intelligence, we will be growing our reach and continuing to deliver real benefits across GM."
Darren Gowling, GC Angels Senior Investment Director, said: "As the main source of coordinated Angel activity in the North West, we are soon to reach a £20m milestone, a figure that is testament to just how investor syndicates are helping to shape the future of not only growth businesses but also the wider social and economic wellbeing of GM. 
"Jess has a proven background in tech and SME support and brings with her a great portfolio of skills to help drive the next phase of our service delivery. We will be bringing more investors and partners into the existing network, working alongside our partners at the UK Business Angels Association (UKBAA) and with the wider Growth Company infrastructure to deliver a unique and wrap round service for entrepreneurs and investors alike."
The Growth Company's GC Angels supports businesses seeking access to angel investment, ranging from £25,000 up to £2m and forms part of the GM Combined Authority's response to supporting the early stage investment market. GC Angels is also able to leverage the range of wider Growth Company Services for clients including GC business finance and business support services. GC Angels provides an innovative, single solution equity funding service.  More information about GC Angels can be found here.